COVID-19 Back To School Tips For Your Child
Whether your child's school will remain virtual or have some form of in-person instruction, it will still not be the traditional back to school experience that we've known. Our Online Tutoring Services will feature tips for children preparing to go back to school in person. We'll cover tips on navigation, health nutrition and mindfulness as tools that can help students adjust and overcome the stress and uncertainty these past few months may have brought them.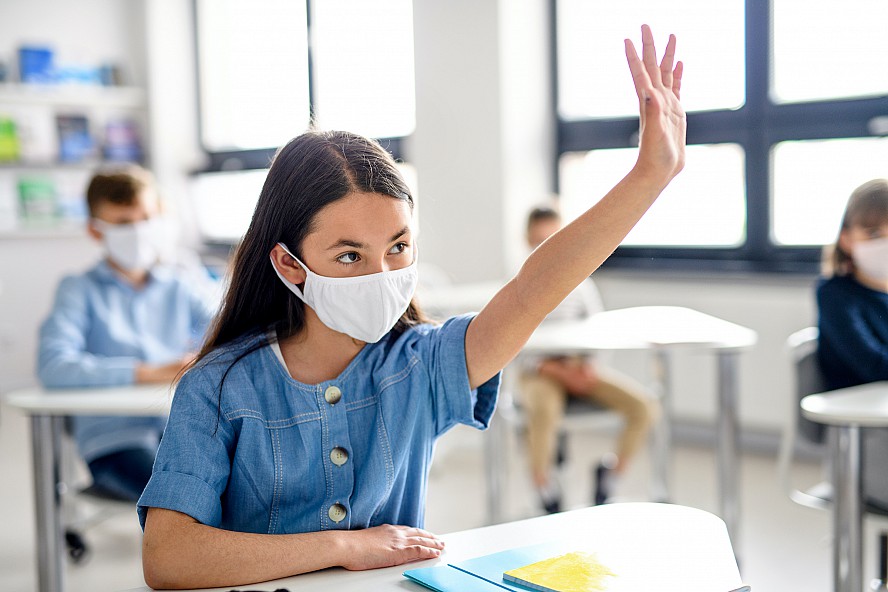 Here we've prepared some tips to help students successfully navigate their return to in person learning:
Mask protocols: Some schools require mask wearing, so plan to supply your children with extra masks for school. Be sure to follow your school's official guidelines regarding mask protocol and social distancing, as these rules vary throughout school districts and states.
Hygiene: Encourage them to wash their hands often, make it fun by singing a song or telling some jokes while they wash. Create home rules about hand washing, including every time before family members leave home and come into the home from outside, after going to the bathroom, and before and after eating.
Reading: Continue reading to younger children and encourage older children to read books of their choice. Helpful resources can be found in school and library reading lists.
Socialize with children: After spending many long months at home, many children have halted socializing in person with others. While this was essential for health reasons and to help slow the spread of the virus, it can make it difficult when students are back in the classroom with their friends and peers. Now is the time to refocus children on socializing in a safe way.
Sleep schedule: Many students have been on different sleep schedules throughout the pandemic. They are likely going to bed later and getting up later in the morning. Parents can start gradually pushing up bedtime to help ease the transition to earlier mornings. Try to follow a consistent bedtime routine and avoid electronics night.
It is important for children to have a nutritious and healthy diet to protect their immunity, and to ensure their future growth and development. The COVID-19 pandemic is obstructing normal life, so it has made it difficult for some families to be able to afford or go out to buy the food that they normally give their children. Adapting to new habits may be necessary.
Here are some tips for ensuring that children receive a nutritious diet during the COVID-19 pandemic:
Provide a variety of foods and regular meals: Try to include at least four food groups each day for your child including fruit and vegetables, grains, pulses and nuts, animal and dairy products and main foods such as rice. Make sure your child eats at least three to four times a day to ensure proper nutrition and immunity support.
Give healthy snacks and plenty of water: To keep children going during the day, add one or two healthy snacks to eat between meals and lots of water. Choose snacks like fruit or vegetables. Soda and sweet and savoury snacks can be bought cheaply, however, these types of food and drink are damaging to childrens' health. They contain very high amounts of sugar, salt, fat and chemicals, and can cause lasting damage to teeth and healthy growth.
Stock up on healthy foods: Stocking up on healthy foods will limit the amount of trips you need to take to the stores and also limit your exposure out in public. In addition, children will eat mostly what is available at home. That is why it is important to control the foods that you serve for meals and have available for snacks. Choose whole grain breads, cereals and rice so your child gets more fiber. A diet high in fiber helps with weight control, lowers cholesterol, and helps prevent heart disease and diabetes.
Get your children involved: Most children will enjoy deciding what to make for dinner. Talk to them about making healthy choices and planning a nutritious meal. Some children might even want to help shop for ingredients and prepare meals. At the store, teach your child to review food labels so they can begin understanding and making healthy choices.
What can we do for our children to stay healthy and emotionally resilient during these difficult times? Regular routines have been disrupted and stress can be inevitable. Fear and anxiety about COVID-19 and what could happen can be overwhelming and cause strong emotions in children. Take time to help your child focus on the present, being intentional and thoughtful about where they are and how they are feeling.
Here are some simple mindful tips we recommend to help during these pressing times:
Squeeze muscles: Starting with your toes, pick one muscle and squeeze it tight. Count to five. Release, and notice how your body changes. Repeat this exercise moving up your body.
Meditation: Sit in a relaxed and comfortable position. Pick something to focus on, like your breath. When your mind starts drifting, bring your attention back to your breath.
Belly Breathing: Place one hand on your stomach and one hand on your chest. Slowly breathe in from your stomach (expand like a balloon) and slowly breathe out (deflate).
Listen to Music: Focus on a song, or listen specifically to the voice or instrument playing.
Making time for mindfulness gives children the opportunity to reduce anxiety and space to recharge. Deciding to set time aside each day to practice mindful activities is a great place to start. Learning how to tolerate the uncertainty of the world right now is a huge part of building healthy coping skills for children.
Jump Start is committed to finding trending topics and offering you free and effective educational resources. Resources are always a great tool for supplementation and for enhancing your child's learning strategy.
However, tests  and exams can be the most stressful events in a student's educational career. They often play a large role in determining their grades, and subsequently affecting student's placement in more advanced classes. In addition, tests like the SAT or ACT which determine college entrance and scholarships can create added stress as the stakes are high and staying focused for three hours can be a challenging task . 
Jump Start tutors can help your child get ready for your upcoming test and exams. We can also help you prepare for the FSA, PSAT, ASPIRE, MCAT, GRE, LSAT, GMAT, HSPT, ISEE, SSAT, TOEFL, AP & IB.
At Jump Start, we understand that student's stress levels have increased. Tutoring offers students the opportunity to combat anxiety, recall information faster, and conquer tests with more confidence! That is why we evaluate our students using one-on-one assessment testing to pinpoint their strengths and weaknesses.
Our tutors will also help students navigate their courses and tests with a hands-on learning experience in-home or online; as they learn about reading, writing, math, science, history, test prep, study skills and much more! Choosing our online tutoring services includes interactive whiteboards, screen sharing, document sharing and video tools to make online test prep more personalized and fun.
Give your child the benefits of in-home and online tutoring today! Check out our newly designed website to learn more about our private tutoring programs. Call Jump Start for a FREE consultation: (954) 440-5787
Follow us on Social Media:
Facebook: https://www.facebook.com/JumpStartTutoringCenter
Instagram: https://www.instagram.com/jumpstarttutors
Linkedin: https://www.linkedin.com/company/jumpstarttutoring
Twitter: https://twitter.com/TutorsJumpStart